- Fires Non-Lethal and Lethal rounds.
- Optionally records which ammunition type was fired, and in what sequence.
- Instantly switches from Non-lethal to Lethal.

The Perfect Police Gun!
US Patent: 9,921,018
Track or Disable Driver Texting
- Not voluntary
- Passengers can text
- No phone mods, No vehicle mods, No hardware infrastructure mods
Visit Safetexting.org
License or Sale
6 US Patents and
2 British Patents
View all patents here.
Implemented by wireless carriers with government cooperation to reduce accidents, injuries, and deaths.
Speed-Sensitive Secure Entrance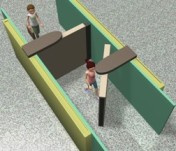 Protect our Soft Targets!
License or Sale
Visit Barbecan.com
6 US Patents and
1 British Patent
View all patents here.
Subways, Hotels, Concerts, Malls, Theatres, Stadiums, Baggage Claim & Ticket Counters, Embassies, Office Buildings, Schools...
Rescue people trapped in rubble after Earthquakes, Tsunamis, Typhoons, Hurricanes, Building failures, Avalanche...
Locate, communicate, and determine physical condition to speed and focus rescue
US Patent No 10,070,249
Trip Tracker with Emergency Detection and Reporting
License or Sale
Tracks progress of a trip. If the traveler doesn't reach a destination (i.e. return home) by a certain time, a third party is notified. Avoids a prolonged period of time where pets and/or children are unattended, especially in the event of a catastrophic accident.
The third party may optionally be notified if an arrival time is predicted to be delayed, as well as when an actual arrival occurs.
License or Sale
Annotations added to search engine results to show:
missing search terms on linked Webpages;
missing search terms on descendant Webpages;
"must include" search term filtering; and
related advertising.
8 US Patents